After receiving request to revive my book reviews, I've decided to blog about books I read again.
If a known terrorist in police custody knew the whereabouts of a ticking bomb about to explode in a large city, would the use of torture be acceptable? Would it be helpful? I stumbled across Alfred McCoy through fora.tv. The program impressed me so much that I decided to pick up his book A Question of Torture.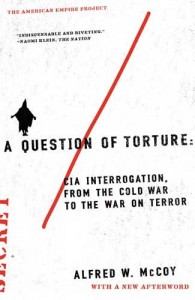 In the book, McCoy examines the history of coercive techniques from the fifties until the present. He makes the case that the so-called "few bad apples" in Abu Ghraib in fact were using techniques directly from the CIA's playbook on torture. These techniques focus on sensory deprivation (such as hooding and prolonged isolation), self-inflicted pain (such as prolonged standing and other "stress positions"), humiliation (such as forced nudity), and sensory disorientation (such as loud music and sleep deprivation) and they do constitute torture.
Some of the questions raised and answered in this frightening book:
How does torture and coercive methods compare to noncoercive methods when it comes to getting useful information? This is in a sense the difference between the effectivenesss of CIA and FBI in "the war on terror".
What long term effects does torture have on its victims?
What is the effect on those who commit torture?
What is the strategic effect of employing torture as a weapon in a war, such as the use of torture and summary executions by the CIA in Vietnam and France in Algers? McCoy unstated claim is that in a sense, the CIA's Phoenix-program cost the US the Vietnam war.
Can the use of torture ever be effectively limited to avoid torturing innocent civilians?
The book offers a resounding indictment of torture on practical, but more importantly, on moral grounds.
The academic style of the book makes it a bit hard to read. At times, it feels like a collage of quotations. On the other hand, this means that it contains well-documented, important and disturbing claims. In the end, this made it into a very quick read.